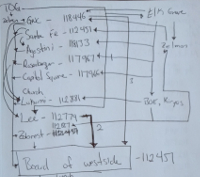 In February we announced our Supreme Court Citation Network tool that we developed with University of Baltimore School of Law. We haven't had a chance until now to comment on some of the technical difficulties that came up while we were working on it. If you're not familiar with this tool, you should take a moment now to go check it out (gallery, homepage).
In this post I'll be talking about the challenges that we overcame in order to efficiently generate these visualizations. If you like what you read here, you might want to vote (hint, hint) for Colin Starger's talk at the Cali Conference.
In the Beginning…
A goal at the start was to create a system that could quickly generate these diagrams in response to a user's request, without resorting to any kind of "please wait" mechanism such as a spinner () or any other tricks that might frustrate our users. This would turn out to be a very difficult goal beacuse of the nature of citation networks.
In a database like ours, the data is organized into tables, much like in an Excel …
more ...