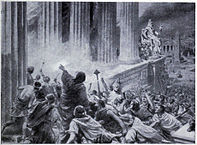 The Burning of the Library of Alexandria, an illustration from 'Hutchinsons History of the Nations', c. 1910.
At least since the destruction of the Ancient Library of Alexandria, the world has known the importance of having a backup. The RECAP archive of documents from PACER is a partial backup of documents taken offline by five federal courts. It is impossible to determine how complete a backup we have, because the problem with missing documents is that you cannot even determine that they are missing without a complete list of what used to be available. No such lists exist for the documents from these five courts.
But as coverage of this surprising and unprecedented action by PACER officials continues (see techdirt), the BBC has an article that takes an interesting approach by pointing out some of the landmark civil rights cases taken off PACER through this action.
The BBC mentions the case Ricci v. DeStefano which was decided at the Second Circuit while  Sonia Sotomayor was a Circuit Judge. Sotomayor, now a Supreme Court Justice, had her role in deciding the case closely scrutinized during her Supreme Court confirmation hearings. Many who dug in to Sotomayor's background during those hearings …
more ...