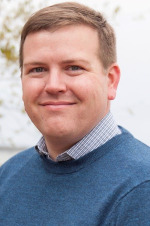 When he's not researching Islamist extremism or uncovering potential terror plots in the United States, Seamus Hughes is using documents available to anyone to break potential news stories, often beating journalists at their own game.
He's become adept at navigating the Public Access to Court Electronic Records, or as it's often referred to, PACER. It's the website that gives the public access to federal court documents filed in every district in the United States, including bankruptcy courts.
For example, at the end of August. Hughes nonchalantly tweeted out a tip about an Arizona man who'd been arrested and charged with threatening to shoot Vice President Mike Pence.
Or there's that time in July, when Hughes helped break the story about the capture of South Korea's most wanted man, Yoo Hyuk-kee, who'd been on the run for over five years after the 2014 sinking of a ferry that killed more than 300 people.
Then, earlier this month, Hughes tweeted out a tip to any Greensboro, North Carolina journalist, about a man running a number of COVID-19 frauds worth millions of dollars.
In the past, Hughes worked for the U.S. Senate Homeland …
more ...